UHS Welcomes New Assistant Principal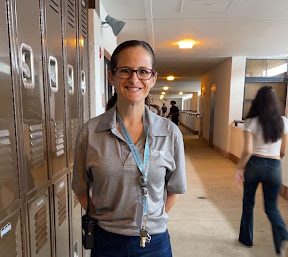 University High School has welcomed their new assistant principal, Ms. Kristen Iannuzzi, who is replacing former AP Ms. Taniah Smith.
Formerly, Ms. Iannuzzi worked at West Orange High School before taking on her new job as assistant principal. "I began my career at West Orange where I worked for 13 years and then went to the district office where I worked in safety and security. I'm very happy to be back in a school setting and look forward to the amazing culture here at UHS," said Iannuzzi.
Iannuzzi is also very excited to get back into the school scene, as her passion for teacher and students alike made her arrival at UHS much more enjoyable."I was really looking forward to working with students and teachers again, and I feel like my heart belongs in a school."
After spending years as a classroom teacher, she received a push to take on a leadership role, and after laying witness to the unfortunate shooting of West Orange HS in 2013, she wanted to take that further. "After spending many years in the classroom, I was encouraged to pursue leadership. Then, after witnessing the shooting at West Orange HS, I had a strong desire to pursue my doctorate to research educators' response to school shootings."
Iannuzzi is excited to explore UHS as she looks forward to assisting all of those who attend or work at UHS. "I really hope to get to know the students and the staff and help in any way. I believe in servant leadership, and view my role as a servant to all the stakeholders on the UHS campus."
The former AP, Ms. Taniah Smith, left UHS to take a position as a new Area Administrator's for the district office.