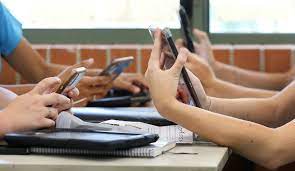 It's been over a month since OCPS' new phone policy has been in full swing, so why do so many people still think that DeSantis is the cause for the entirety of the new phone policy? Yes, according to Florida law students are not permitted to use their phones in classrooms for non-academic purposes. But it was OCPS' decision to prohibit phones outside of classrooms. It's understandable as to why phones have been banned within the classrooms, but why outside?
   The OCPS school board gave their reasoning, stating that the phone ban is to "decrease fights, bullying, and distractions". Which initially sounds reasonable, but falls apart upon closer inspection. Phones do play a part in initiating conflicts and fights, but students use their phones the most off-campus, making it almost impossible to negate cyberbullying through on-campus bans. And, as stated before, Florida law already bans phones during class time completely getting rid of the distraction element of phones. 
   So what's the real reason behind OCPS' abrupt ban on phones? It dates back to 2021, during the height of the COVID pandemic. Governor. Ron DeSantis passed a court appeal prohibiting Florida school districts from mandating masks. However, a few school districts, including OCPS, ignored DeSantis' appeal. This resulted in Florida penalizing the OCPS school board by taking away a portion of their salary, and annual school budget. Now, OCPS is trying their absolute best to overcompensate for their past by appealing to DeSantis' phone policy. 
    While keeping phones away from students during class is necessary for having undisrupted instruction time, is it necessary to ban them outside of the classroom as well? "I try my best to follow OCPS' rules because it's my job, but do I agree with it one-hundred percent? I feel like it can be tweaked a little bit. Like I had this one student who said that in between classes she was caught with her phone out, and refused to give it up. And so the teacher who caught her ended up chasing her down the hall to take a picture of her. That picture was sent out in an email to us and she eventually got caught. While we should impose rules during instructional time, I don't think we should be chasing students down through hallways just to enforce it," said Mrs. Kimberly Acton, a vet teacher. 
   So instead of counselors or teachers focusing on important issues such as fights, drugs, vapes, or even education, they have to put all their effort into making sure that students aren't texting their friends or listening to music during lunch and passing. And better yet, they're enforcing these rules during a statewide teacher shortage. 
   Mrs. Karen Tice, an instructor and part of the LPN program agrees that in the classroom the plan is a plus, but outside of the class enforcement is problematic. "I think banning phones in the classroom has been amazing. The delays in teaching last year, for me, were horrific. I spent so much time telling people to put their phones away it felt like I was teaching phone etiquette – but it's really hard to be a phone jailer, and during lunchtime I certainly don't want to be the one that has to take the phone." 
    OCPS isn't banning phones during non-class hours because it promotes 'in-person conversation' or puts an end to cyberbullying, it's because they want to appeal to Gov. Ron DeSantis in whichever way they can. Even if that means putting their own employees and students in an uncomfortable position.