UHS Students Receive Life Changing Scholarships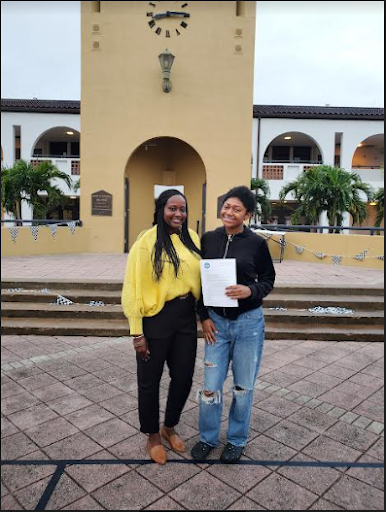 As college decision season approaches, many University High School seniors have already received scholarships from different colleges, all of which will help propel them further into the field of study they choose and provide them with a chance at a future they desire. Along with this, UHS is also asking for students who receive scholarships or grants to report them using the reporting tool to reach our scholarship goal.
Throughout the school year, seniors often apply for scholarships with the hopes that they will get offered one. UHS is home to several students who were accepted for their scholarship applications. One of those students is Brenda McMillion, a senior who's scholarship was accepted by Fisher College, at Rollins for $89,000 for four years. "I am committed to represent UHS at Fisher College," said McMillion. 
Brenda wasn't the only scholarship recipient, as senior Matthew Dehalt also received an offer from Embry-Riddle for $88,000. "They offered me the scholarship because they recognized my accomplishments and believed Embry-Riddle University would be the right fit for me. My plans are to become an Aerospace Engineer and it'll greatly help me pay for my tuition as I pursue this goal," said Dehalt.
Last but by no means least, senior Alissija Samuels was offered a $127,000 scholarship from St. John's University in Queens, New York towards her bachelors degree in biology.  "I also got 40k to Kansas University," explained Samuels, who is one of many to have received multiple scholarships this year. 
With all these scholarship acceptances coming in, UHS created a Senior Scholarship Reporting Tool, where seniors can report any grants or scholarships they have been awarded (even if they don't plan on using them). UHS is aiming to reach at least $6 million in scholarships awarded to the Class of 2023, so it is encouraged for students to report everything they earn. Mr. O'Donal will tally each report and announce them during our National College Decision week from April 24th-28th.