Soundcloud Rapper Kankan Comes to Orlando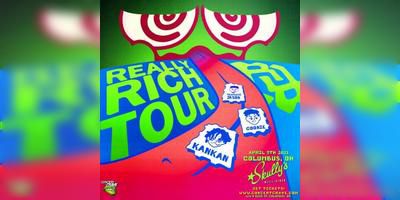 Kankan's 2023-2024 Really Rich Tour came to Orlando on March 24 with another rapper Goonie and TRAPMADE JASON who was performing as well. The concert took place at Henao Contemporary Center where he performed live for fans. All three, Kankan, Goonie, and TRAPMADE JASON, were on stage performing songs together.
   The experience was surreal and a night to never forget. All the days of waiting were worth it in the end, I've never had an experience like this before. The crowd was really hyped and everyone enjoyed it. Kankan was interacting with all the fans while everyone was jumping and screaming. 
   My favorite song that he performed was Can't Cap from his album Way2geeked. He performed about 20 songs including his most popular song Woke uUp and EP full- length projects and his songs from his 2022 album Way2geeked.  It was a smaller concert and the crowd was hyped for certain songs and for others it seemed like it died out and nobody was singing a lot anymore. Everyone was standing and It was a smaller concert and had a 400-500 people capacity. The general admission was only $30 and he was also doing meet and greets which were around $200. Since the tickets were so cheap, the concert sold out really quickly. 
   Most of the songs he performed were from the most recent album which was released September 2022. Many fans enjoyed this album and the concert and it was such an amazing experience. Kankan has grown so much from only starting off as a soundcloud rapper and now he has 1.8m monthly listeners on Spotify.