Earthquakes in Syria and Turkey leave over 41,000 dead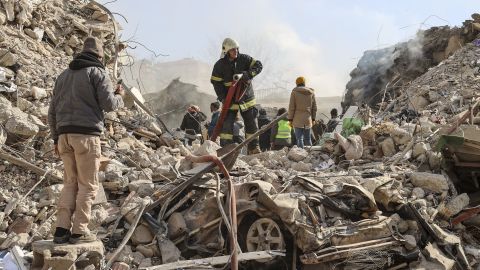 Turkey and Northwestern Syria death tolls surpass 41,000 people after being hit by two catastrophic earthquakes, on Monday, February 6th. 
   Early Monday morning, the tremors of the first 7.8-magnitude earthquake traveled as far as the Palestine territories and only 9 hours later the second quake with a magnitude of 7.5 struck. The region is frequently shaken by earthquakes because it sits on top of major fault lines. Thousands of buildings are toppled across a wide region leaving millions of people homeless. People are currently seeking refuge in stadiums, mosques, community centers, and shopping malls. 
   Over the mountains of debris, survivors cried out for help as 24,000 search rescue workers were carefully removing slabs of concrete in desperate need to find signs of life and loved ones. 
   According to USA Today, Irman Bahur whose apartment was destroyed on Monday wept after not being able to find her grandson. "My grandson is 1 ½ years old. Please help them, please… They were on the 12th floor," said Bahurw. In Kahramanmaras, team rescue members pulled concrete slabs from 25-year-old Onur Dobuolglu, who had been stuck for 30 hours. According to the Turkish Anadolu News Agency, rescue team Turgut Dolanbay and other team rescue members focused on the site after hearing Dobuoglu cry out. "May Allah help everyone, and we wish everyone to be saved," said Sefa Gedik, Dobuoglu's uncle.    
   According to an article in The Hill, U.S. President Joe Biden offered assistance to the NATO ally and offered his condolences to Syria and Turkey. "Jill and I were deeply saddened by the news of the devastating earthquakes that have thus far claimed thousand of lives in Turkey and Syria….Today, our hearts and our deepest condolences are with all those who have lost precious loved ones, those who are injured, and those who saw their homes businesses destroyed," said Biden. 
   The White House also said they would send search-and-rescue teams to Turkey to support their efforts. "At my direction, senior American officials reached out immediately to their Turkish counterparts to coordinate any and all needed assistance. Our teams are deploying quickly to begin to support Turkish search and rescue efforts and address the needs of those injured and displaced by the and displaced by the earthquake. U.S. supported humanitarian partners are also responding to the destruction in Syria," Biden added.