University to be New drop off and Pick up for Riverdale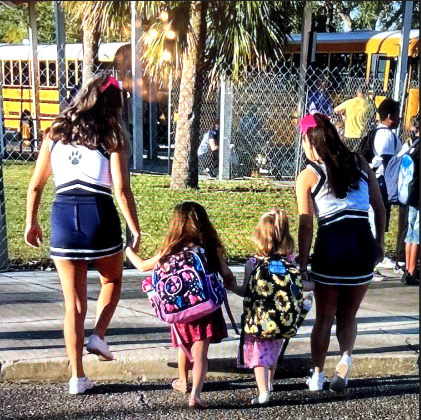 University's neighbor, Riverdale Elementary was deemed an unsafe learning environment after massive flooding from Hurricane Ian. The storm caused major flood damage throughout the school and as a result, Riverdale students and staff have temporarily been relocated to East River High School.
Because of the mass destruction of items and homes of the Riverdale families, each OCPS high school principal was asked to donate thirty backpacks to students. In response to this request, University High School's clubs and staff members filled over thirty-seven backpacks with school supplies for the students. "The process of putting together the backpacks was a bit stressful because of it being-short notice. It was very gratifying when we got more than enough supplies to help young students who were affected by the hurricane," said senior Emanuel Pelaez, who along with other members of ROTC, donated four backpacks.
Other organizations, such as Helping the Homeless, donated backpacks and other necessary materials "We decided that it would be helpful to hand out donations such as soap, shampoo, toothpaste, body lotion, and feminine hygiene products in order to help with the disaster the hurricane caused," said senior Ana Torres.
UHS is also helping with transportation of students through the use of the Innovation Campus' bus and car loop. "Riverdale is right down the road for us and to accommodate the parents and students of Riverdale we were selected to give the opportunity for walkers and car riders to use our bus loop so they wouldn't have to drive all the way to the East River campus. East River was actually the only school nearby that had the capacity to have all the Riverdale students," said Principal Tom Ott.
Members of SGA and the Varsity Cheerleading Squad were there to welcome families and students on their first morning back to school. Cheer also placed "UHS Loves Riverdale" signage to welcome Riverdale students to campus. "We put out the sign so that when the students come through the car/bus loop they would feel more welcomed and less worried, since it was their first day at a new school after the hurricane. For some of the kids it was their first time riding a bus," said varsity cheerleader, junior Cayla Bivens.