Mr. O'Donal Kisses the Pig!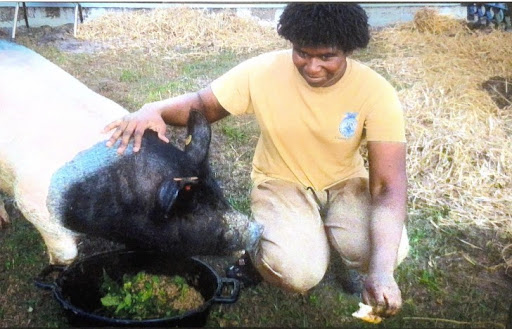 University High School's FFA week was celebrated with the annual Kiss The Pig! event that helped raise 112.00 dollars for FFA.
This year Mr. Patrick O'Donal earned the most votes, making him the lucky winner who would be kissing the pig. "It was an interesting experience and I was just glad we raised the funds and helped out the FFA. I know the pig was clean and the pig was gentle so I wasn't really afraid that I was going to get hurt. Joshua, who owns the pig, was really sweet and tried to help me out," said O'Donal.
Every year during FFA week, the organization hosts the event fundraiser to help provide for the farm. "Kiss the Pig!" is a fundraiser where we ask for volunteers from the administration and teachers. We try to pick the staff that we know the kids would like to see kiss the pig. This year we had Mr. Ott, Mr. O'Donal, Mr. Green, and Mrs. Nieves," said Ms. Mrs. Kim Acton. "Money is a vote and there is a bag for each person. Whoever has the most money (votes) has to kiss the pig. We try to do fun activities to help fund the program and help us supply the farm."
Sophomore Johsua Sutton offered up his pig for the event. "I've had my pig since October and since my pig is the biggest and the calmest they decided he was the best choice. He is 290 pounds. I actually thought it was cool they used my pig," said Sutton.